NEW!
Holy Daring:
Conversations with St. Teresa, the Wild Woman of Avila
 Holy Daring: Conversations with St. Teresa, the Wild Woman of Avila, by Tessa Bielecki, is published by Albion-Andalus Books. This fresh, upbeat, and deftly profound book joyfully reconnects the fullness of our lives and the depth of our prayer.
Much more than yet another book about a great saint who once was, it actually rekindles something of St. Teresa's outrageous spiritual impulse for contemporary readers, particularly those who describe themselves as "spiritual, not religious."
"Tessa's deep intimacy with Teresa of Avila permeates this beautiful book," writes Mirabai Starr, "and creates an invitational space for readers of any tradition (or none) to enter into their own transformational relationship with the 'wild woman of Avila.'"
This new edition of Holy Daring is revised and updated for a new generation of readers in honor of the 500th anniversary of St. Teresa's birth. It includes a Foreword by Adam Bucko and outlines ten concrete and earthy spiritual practices.
Holy Daring is available from Amazon and iTunes.
Teresa of Avila:
Mystical Writings
Tessa Bielecki
Crossroad, New York, 1994, 204 pages
Teresa of Avila is a lucid introduction to the life and writings of St. Teresa of Avila, with special emphasis on what makes Teresa a model for contemporary men and women. Teresa was a highly erotic woman, a brilliant administrator, consummate diplomat, faithful lover, and hilarious observer of the human condition: a conquistador of the Spirit. By combining an account of her life, excerpts from her books and letters, questions addressed to the reader, and Tessa Bielecki's empathetic insights as a modern-day contemplative hermit and spiritual mother in the Carmelite tradition, Teresa comes to life. Her sense of adventure and exile set her out on a quest that included intimate friendships with both men and women and the pursuit of an impossible dream: the renewal of Carmelite spirituality.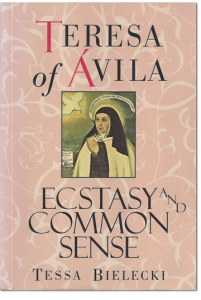 Teresa of Avila:
Ecstasy and Common Sense
Tessa Bielecki
Shambhala, Boston and London, 1996, 140 pages
The words of St. Teresa of Avila speak to the heart so directly that even four hundred years after her death she seems like our contemporary. Few people have ever written of the spiritual path with such immediacy, down-to-earth wisdom, and humor. Tessa Bielecki has brought together here short selections from Teresa's collected works – including The Way of Perfection, The Interior Castle, her autobiography, poetry, meditations, and letters – to create a living portrait of Teresa and her exuberant spirituality. Teresa's striving for divine union was inseparable from her passionate involvement in the hardships and joys of the everyday – which makes her an eminently worthy model for modern people who seek to integrate spirituality and the rest of life.