Ever since moving into my hermitage called al Hadiyah (Arabic for "the gift"), I have greeted visitors with my favorite Arabic greeting: Ahlan wa sahlan, which means, roughly translated, "These are your people and may this be your welcoming land." You step into my entry gallery onto a red and black carpet given to me in 1970 in Afghanistan. I was an exchange student there, and despite having learned in my orientation not to compliment Afghans on their belongings, I blurted out one day in my family's home in Herat, "What a beautiful rug!" The next thing I knew, it was mine. That's part of the Afghan code of hospitality: if a guest admires a possession, the host gives it away, even if it costs the owner dearly. Although I felt some sheepishness in accepting the gift, I am grateful. I could not have known at age seventeen how profoundly my life would be shaped by those months in a Muslim household halfway around the world.
Contemplative Christianity
As I went on to college, I felt drawn to contemplative Christianity, a tradition that was willing to listen to and learn from other cultures and religions. I discovered Thomas Merton and Bede Griffths. I hungered for a Christianity that refected the wide-open arms of Jesus, the Jewish rabbi whom I believe is the embodiment of God. I found no condemnation of the "other" in the Gospel. On the contrary, Jesus shocked friend and foe by his openness to the "other," the alien, the "un-chosen," and communicated a sense of truth through communion and compassion, not through the unilateral imposition of an ideology. Having studied Arabic and Islam in college, I put my interest in the other Abrahamic traditions aside for decades as I deepened my immersion in the Carmelite tradition and the Christian mystics. But after 9/11 and a seismic shift in my own vocation, I longed to return to the teachings and history of the other Abrahamic traditions. When Tessa Bielecki and I created the Desert Foundation and I found myself in a new house, a blank canvas, I began to dream about what kind of Middle Eastern art might surround me in this new life.
Spirituality and Matter
Some may imagine that spirituality is not about matter. But Jesus loved lilies, good food and friendship, wine and walking under the sun and stars. In fact, according to John the Evangelist, Jesus incarnated the Word and the Word loved these worldly wonders into being. I recall a poem, "Things," by Spanish poet Gloria Fuertes: "These things, our things, / how they want to be wanted! / …the door asks to be opened and closed, / the wine to be purchased and drunk,…" I wanted my door to open to a world, not just a house, to things that mean beauty to me, images that want to be wanted,
that want to tell stories. I wanted to bring together manifestations of beauty from peoples separated by confict: the sons and daughters of Abraham, our father in faith. Even if for now we cannot or will not live together in peace and justice, I wanted the work of our hands to share a common ground, to suggest a premonition of reconciliation.
Solitude and Hospitality
The first art you see when crossing the threshold of al Hadiyah is an embroidered cloth hanging with shimmering red geometrical patterns on a black background, woven by women from Beit Jala, a village near Bethlehem. Its dominant colors are the same as the Afghan rug, and although Afghanistan is far from Palestine, and its culture is not Semitic, the patterns of their textiles share similarities. Many Palestinians of the West Bank and Gaza Strip cannot enter Jerusalem, so a nonproft called Sunbula gathers Palestinian crafts for sale at a shop sponsored by St. Andrew's Church in Jerusalem . That's where I found this embroidery. Above it hangs an ornate sign proclaiming ahlan wa sahlan in Arabic calligraphy, crafted by Shahna Lax, our Jewish friend here in Crestone. The greeting may be Arabic, but it belongs to no single religion or scripture. It is a simple offering of the hospitality that reigns throughout the Middle East with roots in desert Bedouin traditions. I want to offer that kind of hospitality in my home, even though I live as a solitary.The wall includes a small Persian miniature of nine men meeting on a verdant hillside. A white pony stands in the foreground beside a stream. Like my rug, it reminds me of Afghanistan. I remember standing with my Afghan "brother," Syed Ahmad, one evening thirty-seven years ago at a place called Bagha Bala (High Garden) outside Kabul. The heat of the day waned; a breeze blew through the fruit trees; the lights of kerosene lamps began to appear from within the fat-roofed adobe homes below us. The full moon rose, and I felt I was inside a Persian miniature, a landscape and atmosphere that, until that moment, would have seemed purely fctional to me, a son of the green fat farmlands of northern Indiana.
Pottery and Paradise
Three ceramic plates hang on the wall. Made by Christian potters in Palestine, one is glazed with the Our Father in Arabic. I have memorized the frst Sura of the Qur'an; it's time I memorized the Our Father in Arabic. A simple blue and black foral pattern covers a smaller dish, testifying to desert dwellers' fascination with fowers and gardens: a reminder that our word "paradise" comes from the Persian word for garden. A stately white camel stands in silhouette against a floral background on the third plate.This reminds me of March 2000, when I rode a camel for two days in the desert of Wadi Rum, near Aqaba, Jordan. Seated high on the camel's back I wandered through a maze of sun-drenched and shadowed red cliffs on sands that shifted from beige to ochre to rust. Spring rains allowed tiny wildfowers to spring up in impossible crannies of sand and stone. Before and after my little expedition, my teen-aged camel driver's mother sat me down next to her charcoal fre in her enclosed patio to drink sweet hot tea spiced with sage. But the camel also reminds me of the Jewish tradition, of the sojourn in Sinai, and Isaiah's vision of the day when all nations will come to Jerusalem, drawn by the truth and light it radiates:
Then you will see and be radiant,
And your heart will thrill and rejoice;
Because the abundance of the sea will be turned to you,
The wealth of the nations will come to you.
A multitude of camels will cover you,
The young camels of Midian and Ephah;
All those from Sheba will come;
They will bring gold and frankincense,
And will bear good news of the praises of the Lord. (Isaiah 60:5-6)
Sanctuary, Not Separation
You also see a primitive image of the Holy Family on the wall. It reminds me of my time in Egypt in August 2004. It was a very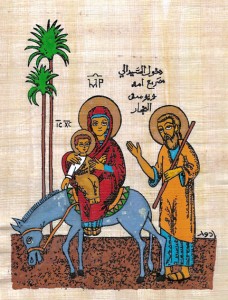 difficult season in my life, and visits to Coptic churches and some of the oldest Christian monasteries on earth, as well as the generous companionship of my old friend Gary Nabhan helped me find my way forward. That trip also introduced me to Christians living as a minority in a predominantly Muslim country. I sensed the tensions as well as the possibilities for reconciliation that come from centuries sharing a common homeland. Finally, on the center of the bookshelf as you enter lies a worn and empty basket. It comes from the Egyptian oasis of Siwa, an ancient settlement visited by Alexander the Great before there were Christians or Muslims. The basket is tattered but tightly woven. I like to think it holds nothing but Promise. A wall can be a terrible thing. I want the wall that people see when entering my home to be a sign not of separation, but of sanctuary, protection, hospitality. I want it to show that beauty is not monopolized by one tradition, but shared by all. I want it to show you what Paradise might look like through the prism of my desert sojourns with Jews, Muslims, and Christians in our troubled Abrahamic family.