Desert Voices is a song from the edge. It celebrates the amorous frontier between two "desert rats" and an arid landscape of sand, sky, and giant cactus. It celebrates friendships between Abrahamic brothers and sisters who have spent too much time demonizing each other. It mourns the lives lost along the border of Israel and Palestine and honors non-violent sowers of hope. It sings from the death bed, from the poverty of the Cross, the universal desert of impermanence that may be the shadow of eternal life. Attracted by beauty and responding to sorrow, Tessa Bielecki and David Denny offer insights about inner work and earth care, peacemaking and social justice, living and dying, and share the nourishing wisdom that blooms in the desert today.
We are grateful for enthusiastic endorsements from Dr. Gary Paul Nabhan, Mirabai Starr, and Imam Jamal Rahman:
"Fr. Dave and Tessa remind us of the multi-layered significance of desert spirituality in many wisdom traditions: seeking poverty and silence to awaken us to the world; eschewing power, wealth and material abundance as means to embrace the spiritual abundance incarnate here on earth; and the quest for peace within and outside our skin and our mind. By living on the edge, where all innovation and grace begin, these two Desert Elders have renewed the prophetic Wisdom Tradition begun sixteen centuries ago in desert monasteries."
Dr. Gary Paul Nabhan, author of The Desert Smells Like Rain, Arab/American, and Cumin, Camels, and Caravans: A Spice Odyssey
"In this luminous collection of dispatches from the heart, Fr. Dave Denny and Tessa Bielecki – two deeply rooted dwellers of both the outer and inner desert landscape – offer timely wisdom on cultivating a sacred relationship with the earth, nurturing authentic connections with those we once perceived as other, and navigating the wild places of our own souls. Poetic, warm, and gently provocative, these writings illumine a path through the holy mystery of love."
Mirabai Starr, author of God of Love: A Guide to the Heart of Judaism, Christianity & Islam and Caravan of No Despair: A Memoir of Loss & Transformation
"I am enthralled by the beauty and wisdom of this finely crafted book. The precious insights about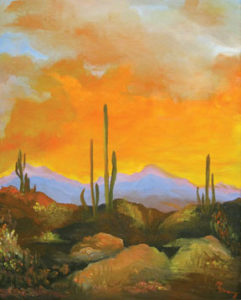 inner work, peacemaking, religion, living and dying, nourish my soul and expand my mind. Father David and Sister Tessa are two rare spiritual pilgrims and peacemakers whose life stories, awareness, compassion and dedication to social justice and earth care, fill my heart with unbounded joy, hope and inspiration. I am humbled to call them friends."
Imam Jamal Rahman, author of Spiritual Gems of Islam
Christmas approaches and winter is a wonderful time for reading, so don't forget to buy Tessa's new edition of Holy Daring and Season of Glad Songs, our festive Christmas anthology.